Provides a detailed breakdown of the different SRM permissions and menu access options that affect the driver, logistics manager, service manager, and technician security roles.
Type
Conceptual
Audience
SRM Administrator
Products
SRM, Texada Web, and Texada Mobile
In This Article
Body
Texada Web and Texada Mobile permissions and menu access are set up in your company's SRM (Systematic Rental Management) application by your SRM administrator. Permissions control what menu options and functions users can view in SRM, Texada Web, and Texada Mobile. Menu access controls what menu options the user can interact with.
For example, you can grant a user permission to see the Work Orders menu option in Texada Mobile, allowing them to click the menu option and view the list of work orders, but if you did not grant that user access to any menus, they would be unable to do anything beyond viewing the list in the application.
There are four security roles that you must create in order for your SRM and Texada web and mobile applications to work together correctly:
Driver
Logistics manager
Service manager
Technician
Note: You can create more security roles than the above four, but generally, any roles you create will be some variation or combination of the required roles. For example, many organizations have a counter role, who combines aspects of both the logistics and service managers.
Each security role has specific permissions and menu access that must be set up in a specific way to enable each role to successfully access, view, search, create, edit, and/or delete information in certain parts of each application.
Each organization is unique in how it is structured and operates. No two companies have the same types of roles or workflows. SRM, Texada Web, and Texada Mobile are built with flexibility in mind and this extends to how the permissions and menu access for the required security roles work as well.
While certain permissions and menu options are required for each security role, there are some that are optional as well. These options enable you to customize the required security roles to meet the needs of your business.
Note: Permissions for each role are cumulative. If you are a user with driver permissions and you are added as a user with technician permissions, you now have all the driver and technician permissions together. One does not replace the other.
Permissions
Use the following table to understand what permissions are required, optional, or do not apply to the required security roles. The table shows the different permission groups which correspond to the different menus in System Maintenance > Configure System Settings > Security > Security Roles > Permissions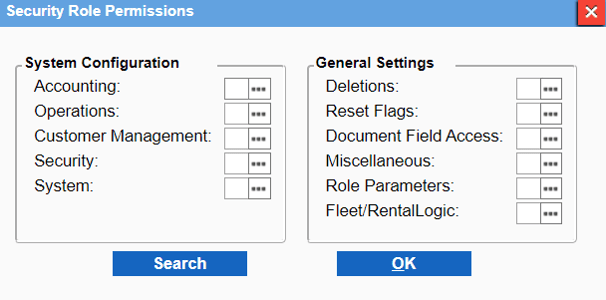 Each permission is laid out as a checkbox in a list. Checking the box activates the permission for that security role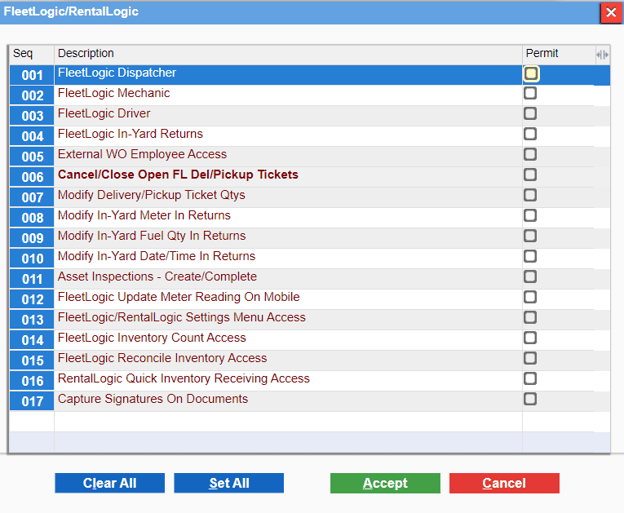 The table also provides a description of each permission along with notes about any interdependencies between permissions. Finally, the table shows which permissions apply to which security role(s) using the following legend:
D = Driver

LM = Logistics manager

SM = Service manager

T = Technician

Required, regardless of your organizational structure

Optional, depending on your organizational needs and structure

Not applicable or not recommended for that role
Permission Group

Checkbox

Description

D

LM

SM

T

Texada

Dispatcher

Identifies the user as a dispatcher and enables them to access Texada Web

Mechanic

Identifies the user as a technician and enables them to access the work orders function in Texada Mobile

Driver

Identifies the user as a driver and enables them to access the tickets function in Texada Mobile

In-Yard Returns

Identifies the user as an in-yard return inspector and enables them to access the in-yard returns function in Texada Mobile

External WO Employee Access

Enables the user to release the external lock on a work order in SRM

Cancel/ Close Open FL Del/Pickup Tickets

Enables the user to cancel pickup or delivery tickets in Texada Web

Modify Delivery/ Pickup Ticket Qtys

Enables users to override the quantity of an asset that is picked up or delivered in Texada Web and Texada Mobile

Asset Inspections - Create/ Complete

Enables users to create standalone inspections in Texada Mobile

Note: A minimum of one of:

Driver
Mechanic
In-Yard Returns

permissions must be enabled

Update Meter Reading on Texada Mobile

Enables users to update the asset meter and status in Texada Mobile

Note: A minimum of one of:

Texada app Driver
Texada app Mechanic
Texada app In-Yard Returns

permissions must be enabled

Texada applications/RentalLogic Settings Menu Access

Enables the user to access the user settings menu in Texada Web

Note: The Dispatcher permission must be enabled

Miscellaneous

Add Sale Inventory

Enables the user to create a part in SRM and Texada Web

Note: The Dispatcher permission and the Detailed Inventory Inquiry or Sales Inventory menu option must be enabled

Add Rental Inventory

Enables the user to create an asset in SRM and Texada Web

Note: The Dispatcher permission as well as the Detailed Inventory Inquiry and Rental Inventory menu options must be enabled

Work Orders - Close/ Invoice

Enables the user the ability to invoice non-internal work orders in SRM and Texada Web

Note: The Dispatcher permission and the Document Inquiry menu option must be enabled

Work Orders - Close/ Create Internal

Enables the user to close internal work orders

Note: The Dispatcher permission and the Document Inquiry menu option must be enabled
Menu Access
Use the following table to understand what access to which menu options are required, optional, or do not apply to the required security roles. The table shows the different permission groups which correspond to the different menus in System Maintenance > Configure System Settings > Security > Security Roles > Menus
Each menu access permission is laid out in a file explorer-style folder tree. The table shows the menu along with the file tree path you must click to reach the menu access option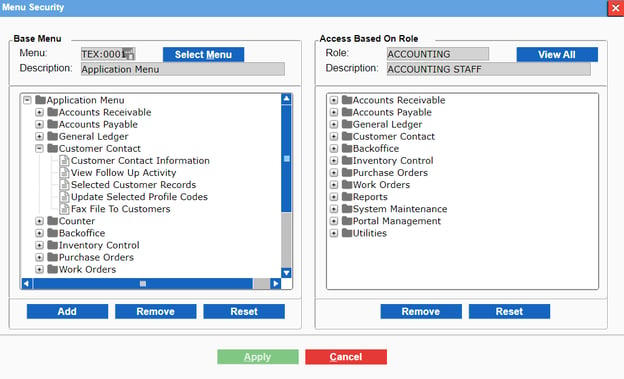 The table also provides a description of each menu access option along with notes about any interdependencies between menu access/permissions. Finally, the table shows which menu access options apply to which security roles using the following legend:
D = Driver

LM = Logistics manager

SM = Service manager

T = Technician

Required, regardless of your organizational structure

Optional, depending on your organizational needs and structure

Not applicable or not recommended for that role
Menu

Sub-Menu/ Path/ Option

Description

D

LM

SM

T

Accounts Receivable

Customer Information

Enables a user to view, create, and edit a customer record in SRM and Texada Web

Note: The Texada Web Dispatcher permission must be enabled

View Customer Information

Enables a user to view a customer record in SRM and Texada Web

Note: The Texada Web Dispatcher permission must be enabled

Counter

Deliveries & Pickups > Delivery Console

Enables the user to access the pickup and delivery tickets menu options in Texada Web and SRM

Note: Requires the Texada Web Dispatcher permission to be enabled

Deliveries & Pickups > Pickup Console

Enables the user to view and edit pickup tickets in SRM and Texada Web

Note: Requires the Texada Web Dispatcher permission to be enabled

Deliveries & Pickups > Delivery/ Pickup Dispatch

Enables the user to view and edit delivery tickets in Texada Web and SRM

Note: Requires the Texada Web Dispatcher permission to be enabled

Deliveries & Pickups > Delivery/ Pickup Report

Enables the user to view tickets in Texada Web

Note: Requires the Texada Web Dispatcher permission to be enabled

Miscellaneous Invoices

Enables the user to create and edit miscellaneous invoices in SRM and Sales Invoices in Texada Web

Notes:

The Texada Web Dispatcher permission, and the Document Inquiry menu option must be enabled
This is an additional paid feature with its own separate fees

Inquiries > Document Inquiry

Enables the user to view work orders and invoices in SRM and Texada Web

Note: The Texada Web Dispatcher permission must be enabled

Inventory Control

Sales Inventory

Enables the User to edit a part in SRM or Texada Web

Note: The Texada Web Dispatcher permission, and the Document Inquiry menu option must be enabled

Rental Inventory

Enables the user to edit an asset in SRM or the Texada Web

Note: The Texada Web Dispatcher permission, and the Document Inquiry menu option must be enabled

Detailed Inventory Inquiry

Enables the user to view the lists of assets and parts in SRM and Texada Web

Note: The Texada Web Dispatcher permission must be enabled

Work Orders

Work Orders

Enables the user to view and edit work orders in the SRM and the Texada Web

Note: The Texada Web Dispatcher and/or Texada Mobile Mechanic permissions must be enabled

Reverse Work Order Invoices

Enables the user to reverse work order invoices and reopen a work order in SRM only

Document Reprints > Print Work Orders

Enables the user to reprint a work order in SRM only

Document Reprints > Print Work Order Invoices

Enables the user to print a work order invoices in SRM only

W.O. Reports > Work Order Report

Enables the user to view the details of a work order in SRM only

W.O. Reports > Open Work Orders

Enables the user to view the open work order list in SRM only

W.O. Reports > Backorder Report

Enables the user to view the list of parts parts on back order in SRM only

W.O. Reports > Work Order Detail Report

Enables the user to view the work order report with all parts labour and service details available in SRM
Next Steps
| | | |
| --- | --- | --- |
| About Users in Texada Web and Texada Mobile | | Create a Security Role in SRM for a Texada Web and/or Texada Mobile User |
| | | |
Related Articles