Describes the purpose of and main scenarios for using Texada Web and Texada Mobile. Describes the typical workflows in Texada Web and Texada Mobile.
Type
Conceptual
Audience
All
Products
Texada Web, Texada Mobile, SRM
In This Article
Body
Texada Web is a web-based product that is part of the Texada Software platform. It focuses on the logistics of transporting rental equipment and processing work orders related to the service and maintenance of that equipment.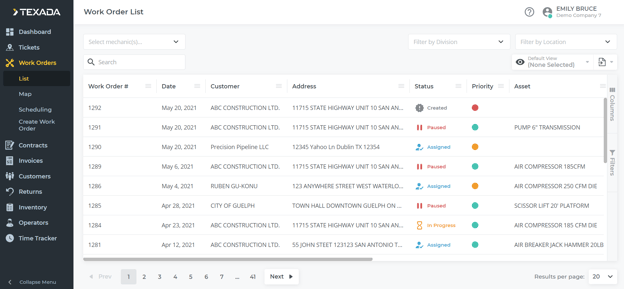 Users
The main users of this application are:
Counter or other order desk workers
Drivers
Mechanics or technicians
Logistics Managers
Service Managers
Use Cases
Texada Web and Texada Mobile enable users of the Texada Software platform to participate in a seamless workflow from the start of a contract all the way to final customer billing. For example:
Logistics (Tickets)
Your customer orders a 185-foot boom, either through your sales team or via Texada's GateWay application
The customer does not have a vehicle that is large enough to deliver the boom and needs you to deliver it to their worksite
Your SRM (Systematic Rental Management) user converts the request to a contract and generates a delivery ticket
In Texada Web, your counter worker sees the ticket and assigns it to a driver
The driver delivers the boom to the customer's worksite, unloads it, and has the customer sign for it using Texada Mobile
The driver also uses the app to take pictures of the boom to verify its drop-off condition
The driver uses Texada Mobile to notify the counter worker that the delivery is complete
Work Orders
A week into the rental contract, the boom develops an issue and the customer requests service on your equipment
The counter worker receives the request and creates a work order in Texada Web
The counter worker assigns the work order to a technician who is automatically notified
The technician travels to the customer's worksite and completes the work order request, does an inspection, takes pictures of the equipment, and signs off on the request - all within Texada Mobile
Billing
The data from the contract and work order is stored in SRM
An invoice for the work order is immediately created in Texada Web and Texada Mobile, sent to SRM, and is then posted to the customer's account when cycle billing is completed
Customers within the GateWay application can view these invoices at any time
In the examples above, users of Texada Web leverage its deep ties with other Texada Software platform solutions to unlock the application's full potential:
SRM (Systematic Rental Management) integration
Texada Mobile
At a high level, the combination of Texada Web, Texada Mobile, and SRM create a complete workflow from when a work order or service ticket is received to when it is closed and billed to the customer.
Texada Web, Texada Mobile, and SRM
Texada Web and Texada Mobile act as an interface with specific components of SRM. For example, while you appear to create a work order in Texada Web, the data for that work order is actually created in SRM. There are several business benefits to using Texada Web, Texada Mobile, and SRM together:
Saves time and effort: enter information in one application and it appears in both. For example, if you make an asset unavailable in SRM, it becomes unavailable in Texada Web and Texada Mobile.
Avoids duplicate information and decreases the likelihood of errors
Automation: Closing a ticket in Texada Web signals SRM to automatically bill your customers for you, for example
Texada Mobile
Texada Mobile is the mobile extension of Texada Web. Texada Mobile works closely with Texada Web to form a complete workflow between your counter workers and drivers and technicians in four main areas:
Work orders
Asset management (assets and parts)
Tickets (logistics)
In-Yard Returns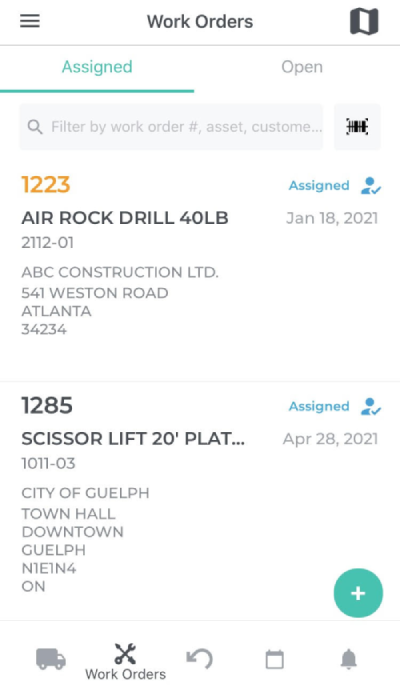 Texada Mobile provides several business advantages:
It handles aspects of work orders and logistics that can/should only be handled in the field such as in-yard returns or equipment inspection reports
Texada Mobile enables field employees to access the information stored in Texada Mobile (and by extension, certain information from SRM) in real-time, providing them with an always up-to-date source of information to help them with their work
The application provides workers with up to date information that they need to perform their work duties efficiently, such as the next closest work order destination, or the availability of parts
Counter workers are made aware of any issues that arise in real-time and can quickly respond to them
Texada Mobile is paperless, so field employees can fill out and submit paperwork while in the field, increasing their time on tasks
Texada Web, Texada Mobile, and GateWay
Texada Web, Texada Mobile, and GateWay do not directly interface with one another, but instead, use SRM as the intermediary to forward rental contracts generated in GateWay on to Texada Web so they can be carried out.
Related Articles
About Texada Web and Texada Mobile
About Work Orders in Texada Web and Texada Mobile
About Invoices in Texada Web and Texada Mobile
Search for a Work Order Invoice in Texada Web and Texada Mobile
Print a Work Order Invoice in Texada Web and Texada Mobile
Email a Work Order Invoice in Texada Web and Texada Mobile
Download a Work Order Invoice as a PDF in Texada Web and Texada Mobile