Provides a conceptual overview of the sections and components of the GateWay administration panel's dashboard functionality.
Type
Conceptual
Audience
GateWay Administrator
Products
GateWay administration panel
In This Article
Body
Use the dashboard to navigate between the various sections of the administration panel as you perform your various work tasks.
Sections of the Dashboard
The dashboard is composed of several key sections: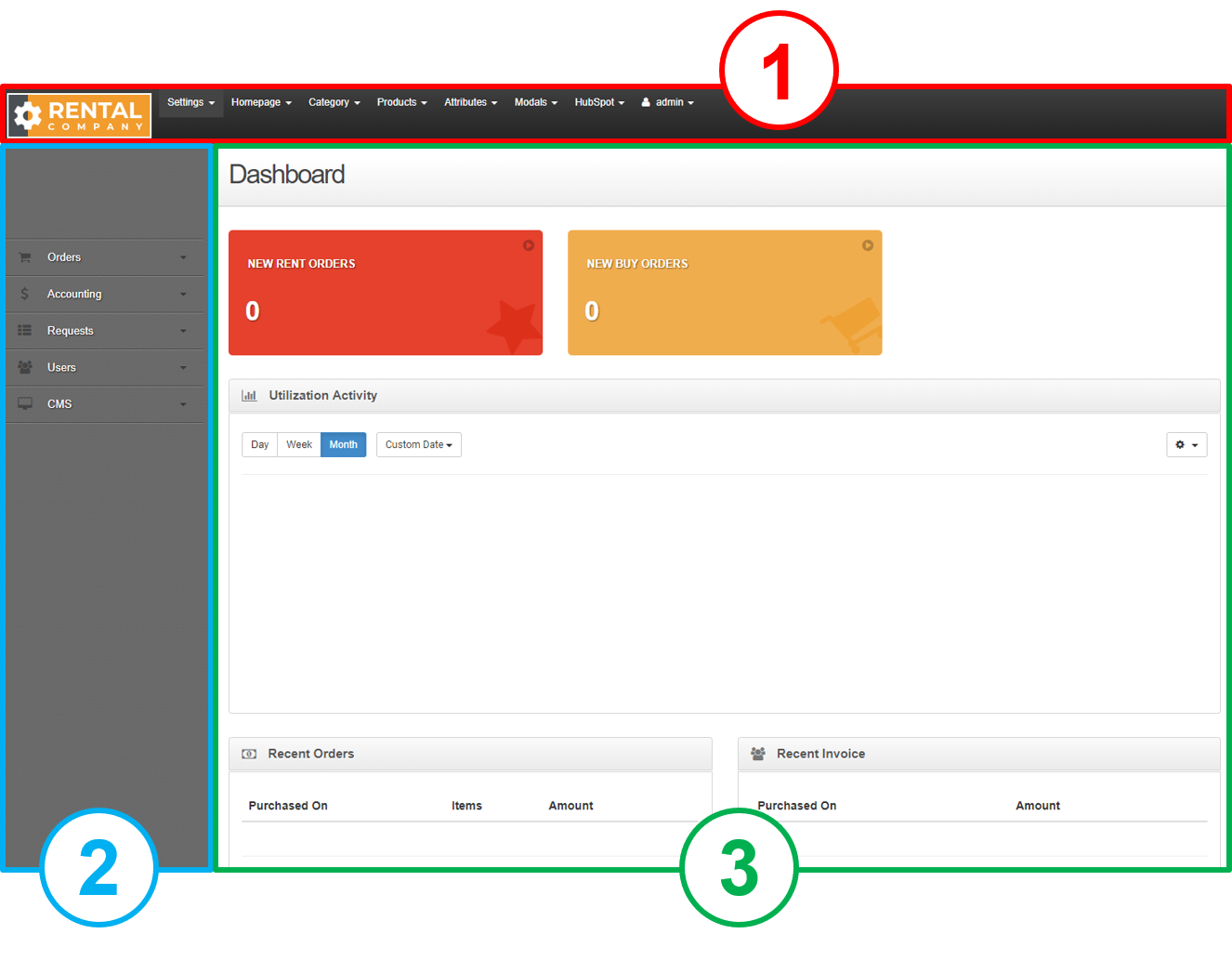 Header bar

Contains functions that control and configure different portions of the administration panel, customer access portal, and ecommerce website

Menu bar

Contains lists of information coming into the administration panel from the customer access portal and ecommerce website as well as configuration controls for ecommerce

Main area

This component is updated when you click on a menu item. Use this component to do most of your work in the administration panel
Navigating the Dashboard
In the administration panel, all the application's functionality is contained within sub-menu options. With the exception of the home button, all sub-menu options are hidden until you click on the main menu option that they are associated with.
In the header bar, you can click on a menu option to view any sub-menu options beneath it. For example, clicking the Settings menu option reveals the Config Settings, Portal API, and Email Logs sub-menu options beneath it: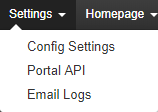 The menu bar behaves similarly to the header bar. Click a menu option to open an accordion-style list of sub-menu options beneath it. For example, clicking the Users menu option reveals the Users List, Restrictions, and Product Access sub-menu options beneath it: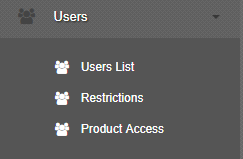 Dashboard Components
Use the following table to understand where each menu and sub-menu option is located, what it does, and what parts of GateWay are affected by the sub-menu option (AP = administration panel, CAP = Customer Access Portal, EC = ecommerce):
Dashboard Component
Sub-Menus
Description
Mainly Affects
HEADER BAR
AP
CAP
EC
home button
Displays the dashboard page
☑

Settings

Config Settings

Enables you to set up your divisions, email servers, and a number of settings that control how your company information displays in the customer access portal and on your ecommerce website

☑
☑
Portal API

An advanced section of the administration panel that enables you set up your integration with SRM and the other components of GateWay

☑

Email Logs

Enables you to view your email logs and set up your email templates

Homepage
Order Categories

Enables you to manually set the order your categories appear to customers

☑

Category

View Category

Enables you to view and edit existing product categories

☑

New Category

Enables you to create a new product category

Products
Manage Products

Enables you to view and edit the details of an existing product, including product rates

☑

Attributes

View Attributes

Enables you to view, edit, and delete product and category attributes, such as weight or boom type

☑

Add Category Attribute

Enables you to create a new category attribute

Modals

View Modals

Enables you to view and edit the details of an existing pop-up message

☑

Create Modals
Enables you to create a new pop-up message that appears for your customers under specific circumstances
HubSpot
Manage HubSpot Integration

Enables you to set up and maintain your company's GateWay HubSpot integration

☑

admin

My Profile

Enables you to set up and maintain your GateWay Administrator account profile

☑

Logout

Logs you out of the administration panel

MENU BAR
AP
CAP
EC
Orders
Cart Orders

Enables you to view the details of any orders that your customers place in their ecommerce website cart

☑
Accounting
Daily Payments

Displays a list of payments collected through ecommerce

☑
Requests
Equipment Service

Enables you to view the details, change the status, or delete any equipment service requests submitted by your customers from within the customer access portal

☑

Users

Users List

Enables you to view, edit, or change a password as well as delete or create a new GateWay user account profile

☑
☑
Restrictions

Enables you to control which types of users can access which sections of the customer access portal and ecommerce website

☑
☑
Product Access

Enables you to view, edit, delete, or create a pre-built profile that controls what types of users can see what types of products in ecommerce

☑

CMS

Page

Enables you to add pages to your ecommerce website, such as an "About Us" page

☑

Site Content

Enables you to edit the main title of your ecommerce website

Carousel

Enables you to edit or create a carousel for your ecommerce website that you can use to display important content such as featured products, specials or announcements

Email Templates

Enables you to set up your email templates

Company Logo

Enables you to upload a company logo that displays in the customer access portal and on your ecommerce website

Menu Builder

Enables you to edit and create a menu structure for your ecommerce website

Footer Builder

Enables you to control your website footer content

Country Support Configuration

Controls the contents of the Country dropdown on a user profile in the administration panel and in the customer access portal
Related Articles