Describes how to install the software required to use card reader hardware with Texada Pay.
Type
How to
Audience
SRM Counter and Bookkeeper
Product
Texada Pay
In This Article
Context
Texada Pay is powered by OpenEdge Payments software and is compatible with the Texada Pay card reader console hardware issued to you by Texada Software.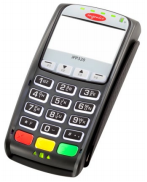 You must install the software on the computer you intend to use as your payment console and configure the hardware before you can use Texada Pay to take credit and debit card payments in person at your company.
Before You Begin
Required:
Available computer to use as a payment console
OpenEdge Remote Client Manager software
Administrator credentials for your computer
Available Texada Pay card reader console
Processing account information
Terminal identification numbers for debit and credit (if applicable)
Optional:
Information about your card reader console type
Information about which COM port your console uses
Custom default message (less than 30 characters) for your customer to see on the console
Steps
Install the OpenEdge Remote Client Manager software
Note: If your card reader hardware is plugged into your computer during the software installation, the card reader hardware drivers are automatically installed at the same time
Log in to the computer you intend to use as your payment console with an administrator account
Double-click the RCM installation package
The RCM installation wizard opens
Note: Contact Texada Support to obtain the RCM installation package

Click Next
The End User License Agreement screen opens

Click I accept the terms in the license agreement
Click Next
The Shared User Setting Configuration screen opens

Do one of the following:

Click System-wide if you need your console settings to be the same for all your users
Click User-specific if you need your console settings to be different for each user

Click Next
The Ready to Install the Program screen opens

Click Install
The installing screen opens

When the installation completes, the Please Restart pop-up opens

Click OK
The InstallShield Wizard Completed screen opens

Click Finish
Restart your computer
Your card reader console software is installed
Configure and test your card reader hardware
Once your software is set up, you must set up and ensure your card reader hardware operates as expected.
The method for setting up and testing your card reader hardware depends on the card reader model. Choose your Texada Pay card reader hardware model from the list and do the following:
Automatically detect your card reader model and COM port
Plug the card reader into a USB port on your PC and a power outlet
Right-click the RCM tray icon
Click Device Configure
The Device Setup pop-up opens

Click Auto Detect
The connected console is correctly identified and selected
Click Ok
Note: You must still select and configure non-EMV consoles
Ingenico iPP320 (Non-EMV) Card Reader
Plug the card reader into a USB port on your PC and a power outlet
Right-click the RCM tray icon
Click Device Configure
The Device Setup pop-up opens

Use the PIN Pad Device dropdown to select Ingenico iPP320
The available pop-up options are updated

Note: When the automatic detect functionality discovers an Ingenico iPP320 console is connected to your computer, the pop-up defaults to the US EMV option
Use the COM Port dropdown to select the port the console uses
Optional: Type the default message that appears to your customers in the Default Message field
Note: The default message must be 30 characters or less
Click Load Forms to Device to add your processing account's information, such as debit and credit processing, to the console
Notes:
-This may take several minutes. Avoid interrupting the process where possible
-You must have unique credit and debit processing accounts set up for each console when using Canadian EMV functionality
-Contact Texada Support for assistance with obtaining and configuring your processing accounts
Your account preferences and information are loaded to the console
Optional: Click Test and follow the prompts on the card reader console to check if the device functions as expected. When you are finished, press the OK button on the console
In the Device Setup pop-up, click Ok
Your card reader console is configured and ready for use with Texada Pay
Ingenico iPP320 (Canadian EMV)
Plug the card reader into a USB port on your PC and a power outlet
Right-click the RCM tray icon
Click Device Configure
The Device Setup pop-up opens

Use the PIN Pad Device dropdown to select Ingenico iPP320 (Canadian EMV)
The available pop-up options are updated

Note: When the automatic detect functionality discovers an Ingenico iPP320 console is connected to your computer, the pop-up defaults to the US EMV option
Type your processing account terminal identification numbers IDs in the Debit TID and Credit TID fields
Click Load Settings to Device to load your identification numbers to the card reader console
Notes:
-This may take several minutes. Avoid interrupting the process where possible
-You must have unique credit and debit processing accounts set up for each console when using Canadian EMV functionality
-Contact Texada Support for assistance with obtaining and configuring your processing accounts
Your identification numbers are loaded to the console
Optional: Click Test and follow the prompts on the card reader console to check if the device functions as expected. When you are finished, press the OK button on the console
In the Device Setup pop-up, click Ok
Your card reader console is configured and ready for use with Texada Pay
Ingenico iPP320 (Canadian EMV Contactless)
Plug the card reader into a USB port on your PC and a power outlet
Right-click the RCM tray icon
Click Device Configure
The Device Setup pop-up opens

Use the PIN Pad Device dropdown to select Ingenico iPP320 (Canadian EMV Contactless)
The available pop-up options are updated

Note: When the automatic detect functionality discovers an Ingenico iPP320 console is connected to your computer, the pop-up defaults to the US EMV option
Use the Default Language dropdown to select the default language that the card reader console displays in
Use the COM Port dropdown to select the port that console uses
Click Load Settings to Device to load your identification numbers to the card reader console
Notes:
-This may take several minutes. Avoid interrupting the process where possible
-You must have unique credit and debit processing accounts set up for each console when using Canadian EMV functionality
-Contact Texada Support for assistance with obtaining and configuring your processing accounts
Your identification numbers are loaded to the console
Click Load Forms to Device to add your processing account's information, such as debit and credit processing, to the console
Notes:
-This may take several minutes. Avoid interrupting the process where possible
-You must have unique credit and debit processing accounts set up for each console when using Canadian EMV functionality
-Contact Texada Support for assistance with obtaining and configuring your processing accounts
Your account preferences and information are loaded to the console
Optional: Type the default message that appears to your customers in the Default Message field
Note: The default message must be 30 characters or less
Optional: Click Test and follow the prompts on the card reader console to check if the device functions as expected. When you are finished, press the OK button on the console
In the Device Setup pop-up, click Ok
Your card reader console is configured and ready for use with Texada Pay
Ingenico iPP320 (US EMV and EMV Contactless)
Plug the card reader into a USB port on your PC and a power outlet
Right-click the RCM tray icon
Click Device Configure
The Device Setup pop-up opens

Use the PIN Pad Device dropdown to select Ingenico iPP320 (US EMV)
The available pop-up options are updated

Note: When the automatic detect functionality discovers an Ingenico iPP320 console is connected to your computer, the pop-up defaults to the US EMV option
Use the COM Port dropdown to select the port that console uses
Optional: Type the default message that appears to your customers in the Default Message field
Note: The default message must be 30 characters or less
Click Load Forms to Device to add your processing account's information, such as debit and credit processing, to the console
Notes:
-This may take several minutes. Avoid interrupting the process where possible
-You must have unique credit and debit processing accounts set up for each console when using Canadian EMV functionality
-Contact Texada Support for assistance with obtaining and configuring your processing accounts
Your account preferences and information are loaded to the console
Click Load Settings to Device to load your identification numbers to the card reader console
Notes:
-This may take several minutes. Avoid interrupting the process where possible
-You must have unique credit and debit processing accounts set up for each console when using Canadian EMV functionality
-Contact Texada Support for assistance with obtaining and configuring your processing accounts
Your identification numbers are loaded to the console
Optional: Click Test and follow the prompts on the card reader console to check if the device functions as expected. When you are finished, press the OK button on the console
In the Device Setup pop-up, click OK
Your card reader console is configured and ready for use with Texada Pay
Next Steps
Set Up Texada Pay in the U.S.
Set Up Texada Pay in Canada
Related Articles