Requirements
SRM SaaS 9.2 ( or higher )
Jasper Forms enabled on the server.Speak to a Texada Support representative for more information on enabling Jasper Forms if they are not being used.
Email solution: Personally hosted (Exchange) or by 3rd Party (hosting company, Google, Yahoo!, etc)
Only operators with Administrator Access can modify email settings.
Setup
Step 1: Input email addresses for each operator code
Each operator in SRM that will be emailing documents requires an email address defined in their account.
In the SRM Application access: System Maintenance Menu -> Configure System Settings -> Security Tab -> General Settings -> Operators
Enter an email address for the operator in Email Address
Press Accept to save the changes.
Step 2: Input your mail server configuration
In the SRM application access: System Maintenance Menu -> Configure System Settings -> System -> Company & Divisions -> Company Parameters -> Company Miscellaneous Parameters -> Email Configurationwindow.
Fill out the information that is necessary for your mail server:
Default From Email Address: <youremailaddress>
SMTP Host Name: <the SMTP address/domain used by your mail server to send email>
Alternate SMTP Port: <If your server does not send mail on the default port 25, enter the SMTP communication port used by your mail server to send email>
Use SMTP Authentication: Yes (check mark) | No (blank) <most servers use authentication, confirm with your IT administration>
SMTP Username: <yourusername>
SMTP Password: <yourpassword>
Server Requires TLS: Yes (check mark) | No (cleared) < confirm with your IT administration>
Server Requires SSL: Yes (check mark) | No (cleared) < confirm with your IT administration>
Alternate *From* Address Support: Optional
Contact Mngmt. From Address: Optional
Contact Management Password: Optional
Note: values in this screenshot are for reference, and are dependent on your mail server setup:
With all necessary fields filled out, click Test to save and test your connection settings.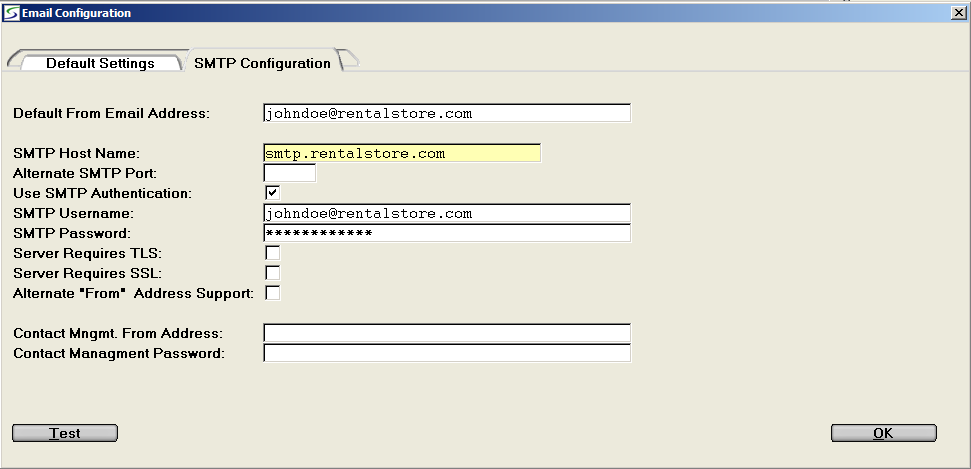 Step 3 (optional): Configure customer contacts to include an email address
If a customer contact does not have an email address defined you will be able to manually input an email address when sending a document. To save time, you can pre-define email contacts for customers:
In the SRM Application access: Accounts Receivable Menu -> Customer Information (input Customer #) -> Contacts window ->
Click the Add button at the bottom of the screen.
Fill out the required customer contact information.
Up to three email addresses can be input for each contact. The Primary Email will be the default email address used when emailing documents. This can be changed at the time of sending the email.
Define what types of documents can be sent to a contact. Either all documents, or only specific documents such as Invoices can be allowed.
Click Accept to save the contact, Accept to exit the window, then Accept on the Customer Information screen to save changes to this customer.
*****If you do not click Accept on Customer Information the changes to the contacts will not be fully saved.*****
Common Causes of Failure to Send Email
Incorrect information for the email server is being used. Please confirm that all connection information is correct and try again.
Some mail servers make use of a security firewall that can detect the attempt to send email through SRM as a malicious attack or spamming attempt. An exception would need to be allowed in the security software. Please contact Texada Software for a list of IP addresses that will need to be whitelisted on your mail server.
If you are still experiencing issues setting up email within SRM please contact Texada Customer Support at one of these options:
Email: support@texadasoftware.com
Phone: 1-800-361-1233