Provides an overview of the ticket scheduling functionality, and describes how to view, search and filter the list of scheduled tickets in the FleetLogic web application.
Type
How to/Conceptual
Audience
FleetLogic Counter or Logistics Manager
Products
FleetLogic web application
In This Article
Context
As your business grows, and your list of scheduled tickets grows longer, you can use the search and filter functionality to narrow down the list of tickets to only display the tickets that you need to view. This enables you to focus on scheduling your tickets in a systematic and easy to follow way, while cutting out irrelevant information.
For example, if you are mostly done scheduling your tickets for a particular day, but still need to schedule tickets for a single driver, you can search for that driver and only display the tickets that are scheduled for them, without the distraction of seeing what is assigned to other drivers.
Sections of ticket scheduling
Use the following diagram to understand the different sections of the ticket scheduling page: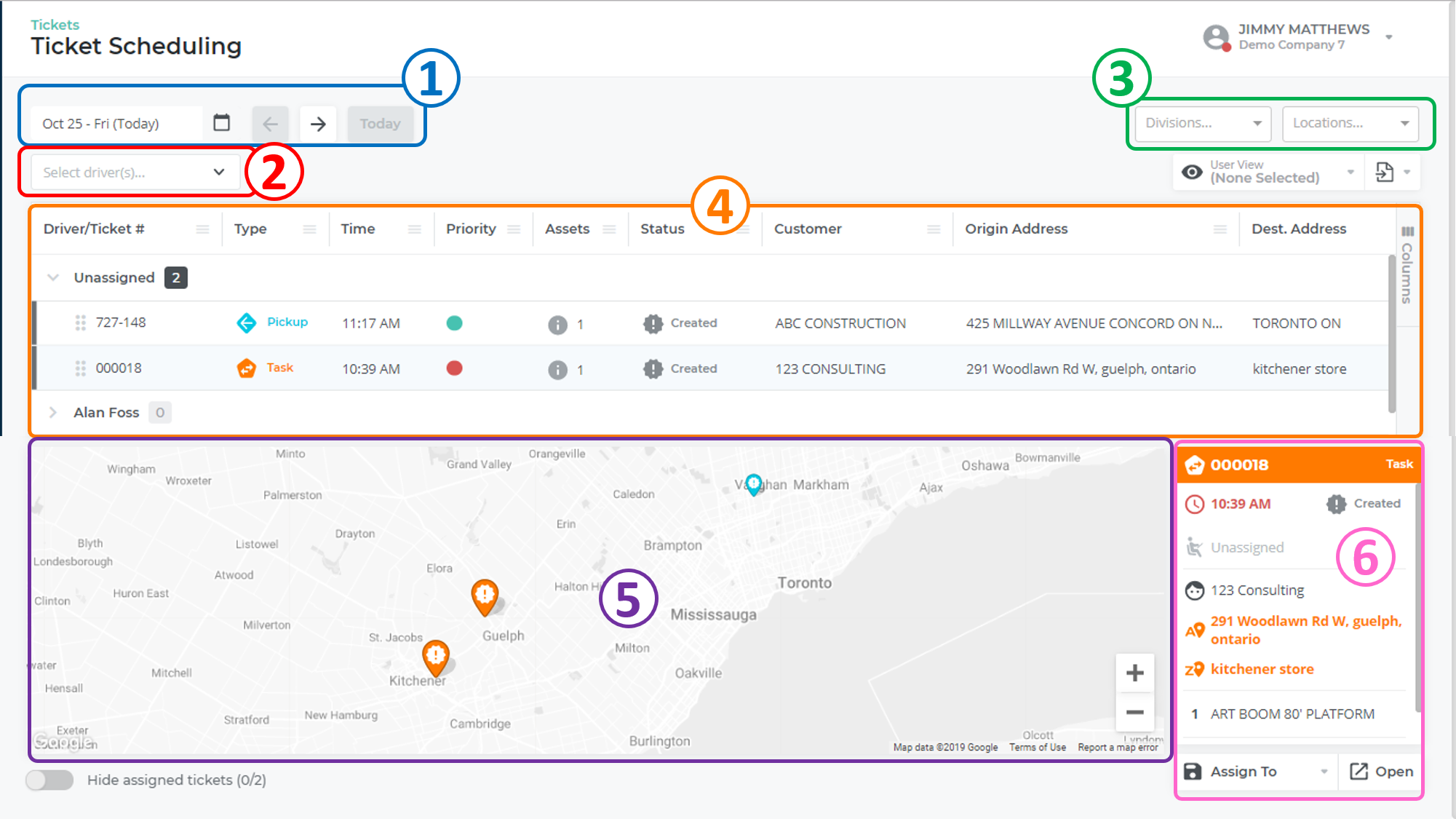 1. Date/time fields and arrows

Used to move between different days to view the different tickets that are scheduled for each day.
Note: You can only view a single day's worth of tickets at a time
2. Driver selection dropdown

Enables you to filter the list of tickets by driver
3. Division and location dropdowns

Enables you to filter the list of tickets by division and/or location
4. List of scheduled tickets

Displays all assigned and unassigned tickets for a particular day along with:
Ticket number
Ticket type (delivery, pickup, or task)
Scheduled time
Priority level (low, medium or high)
Number of assets
Ticket status (see: "About Ticket Statuses in FleetLogic" for more information)
Customer number
Origin address
Destination address
Number of tickets that are unassigned or assigned to a specific driver
Notes:
5. Map

Enables you to visually locate tickets on a map using Google maps
Notes:
Click here to learn more about how to use Google maps
Click a pin on the map to change the information that appears in the ticket details and to highlight the selected ticket in the list of scheduled tickets
Each pin on the map uses color to display the type of ticket (red for delivery, blue for pickup, and orange for task), and a symbol to display the status of the ticket
6. Ticket Details
Contains functionality to assign the ticket to a driver, or to view the details of the ticket
Displays specific information about the ticket:
Ticket number
Ticket type
Scheduled time
Ticket Status
Driver
Company name
Origin address
Destination address
Assets
Comments
Notes:
Before You Begin
Required: internet connect, valid FleetLogic login credentials and access permissions, existing ticket
Optional: mobile device with an internet connection, existing driver
Steps
Search and filter the list of scheduled tickets by driver
In the FleetLogic dashboard, navigate to Tickets > Scheduling
The Ticket Scheduling page opens and displays the list of scheduled tickets for the current day

Optional: Click date and use the calendar field, or use the arrows to select the date you need to schedule a ticket on
Click the Select driver(s) dropdown and do one of the following:

If you are looking for a specific driver, type the name of the driver in the Search field
The list of drivers and scheduled tickets is narrowed to reflect your search term(s)
If you are looking for multiple drivers, check the driver(s) in the list that you need to view
The list of drivers and scheduled tickets is narrowed to only include the driver(s) you checked
Optional: Click Select All to select all drivers

Filter the list of scheduled tickets by division and location
In the FleetLogic dashboard, navigate to Tickets > Scheduling
The Ticket Scheduling page opens and displays the list of scheduled tickets for the current day

Optional: Click date and use the calendar field, or use the arrows to select the date you need to schedule a ticket on
Do any of the following:

Use the Divisions dropdown to select the division that you need to filter the list of scheduled tickets by

Use the Locations dropdown to select the location that you need to filter the list of scheduled tickets by


The list of tickets is filtered to reflect your selections
Related Articles