When attempting to print a document within SRM, the above error occurs.
Note: There are several potential causes of this error, and will likely require a deeper analysis of the document in question that is being printed. To conduct that analysis, please contact Texada Support at 1-800-361-1233 Ext 1, or by email at support@texadasoftware.com.
The primary cause of this issue is the insertion of "bad" character data into a document comment or line item description. This will often result in a error that appears similar to this: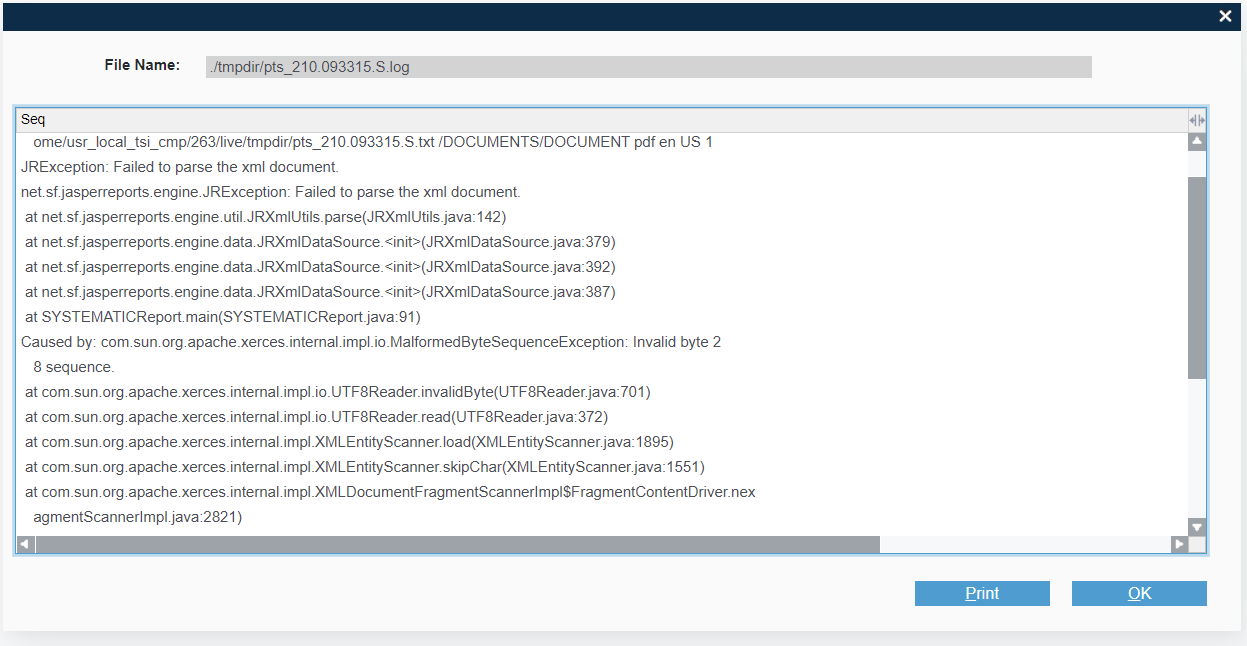 "Caused by: com.sun.org.apache.xerces.internal.impl.io.MalformedByteSequenceException:"
Being the primary indicator of this issue. This is most often caused when data is copied from one location (like an Excel spreadsheet or a Vendor's online marketplace) and pasted into the Systematic Rental Management data field. The majority of the time this is not an issue, but if the source document is using an older or otherwise unsupported character set it can cause this issue to occur. Texada Software does not explicitly recommend against the copy and paste of data, but directly typing in the information will guarantee this does not occur.
To resolve, the invalid characters must be identified. An optional printing parameter will need to be enabled to do so, under: System Maintenance Menu -> Configure System Settings -> System -> Company & Divisions -> Company Parameters -> Customer Forms Configuration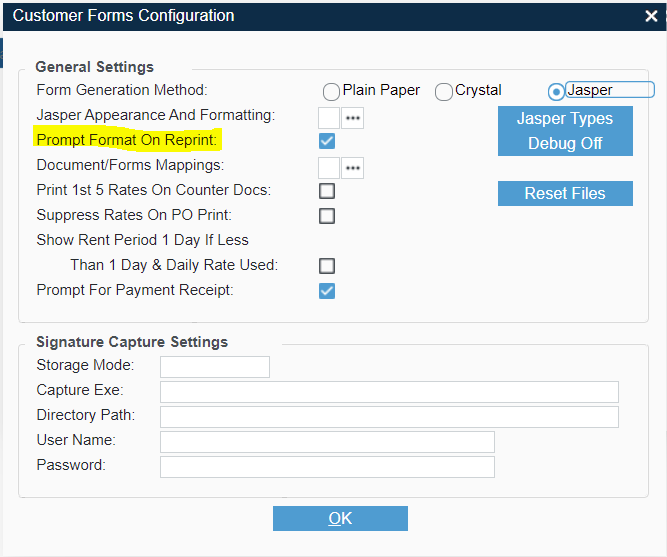 Enable the checkbox next to "Prompt Format On Reprint" and OK/ACCEPT to save this change.
Next, attempt to reprint this document using the appropriate Document Reprint function for the document type. This popup will appear:

Select NO, and the document will print using plain text to PDF format.
Examine the resulting printout for characters that do not look like they belong, usually appearing like a box with an X through it, for example: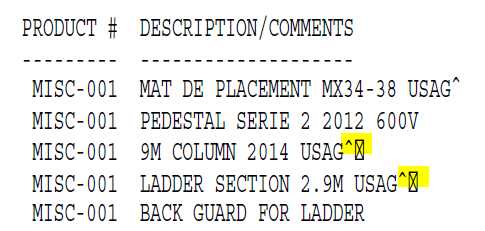 With the characters identified, edit the document using the associated function and delete and re-type to indicated comments, descriptions, etc where they were found. Once replaced, re-print the document to review the changes and confirm it is resolved.