Describes how to complete a work order or standalone inspection form in Texada Mobile.
Type
How to
Audience
Texada Mobile Service Manager, Technician
Products
Texada Mobile
In This Article
Context
Complete an inspection form when you need to carry out an inspection on an asset. Sometimes inspections are mandated by your company, other times they are legally required by the government in your region. Generally, you complete a work order inspection as part of the overall process of completing a work order. See: "About Work Orders in Texada Web and Texada Mobile" for more information on the work order process. Standalone inspections are carried out on the spot as needed or mandated.
Before you can complete an inspection form on a work order, you must first claim the inspection. This is necessary when multiple technicians are working on the same work order and are completing different portions of the same inspection. This does not apply to standalone inspections.
You can add comments, photos, or can record the meter reading on the asset if it is a metered asset. See: "About Assets in Texada Web and Texada Mobile" for more information on metered assets.
After adding information, you can complete the items in the inspection form. The items you must complete will depend on the asset, and whether the items are set as mandatory. See: "About Inspections in Texada Web and Texada Mobile" for more information on inspection items.
After completing the inspection, you can mark the form as complete. If certain responses are given on the form, a warning icon appears next to the asset in the list of assets, indicating that this asset requires further maintenance.
Note: This functionality must be set up by your SRM (Systematic Rental Management) application administrator.
On a standalone form, you must then agree to the terms and conditions and digitally sign off on the inspection. You can then add your name, and an email address to send a copy of the confirmation notification to.
Once completed, an inspection is permanently attached to the inspection history for that asset and the inspection form can be referred to at any time in SRM, or Texada Web.
Before You Begin
Required: Mobile device with internet connection and Texada Mobile installed, valid Texada Mobile account, valid login credentials and access permissions, existing inspection form
Optional: Existing work order with the Assigned, In Progress, or Paused status that contains an inspection form, an existing asset with an available inspection form
Steps
Complete an inspection form on a work order
In the Texada Mobile dashboard, tap Work Order
The list of work orders that are assigned to you opens

Locate and tap the work order you need to complete the inspection form on
The work order details page opens
In the Inspections section, tap the heading of the inspection form you need to complete
The Claim inspection popup opens

Tap YES
You have claimed the inspection form
Do any of the following:

If you need to fill out a text entry field, tap the field and type any relevant information
If you need to fill out a numerical entry field, tap the field and type any relevant information
If you need to fill out a status select field, use the Status dropdown to select the status you need
If you need to fill out a checkbox/comment field, do the following:

Use the toggle to set the inspection item to either checked (on) or unchecked (off)
Optional: If you need to add additional information related to the checkbox, tap comment, and type your comment in the available field

If you need to fill out a photo field, tap photo , and then follow the directions in "Add a Photo in Texada Mobile"
Note: See: "About Inspections in Texada Web and Texada Mobile" for more information on each inspection field type

Repeat step 5 for any fields in the inspection form until all forms are filled
When you have completed all fields in all inspection forms you need to complete, tap Work Complete
The inspection form is completed and saved
Complete the rest of the work order process as you normally would
The work order inspection is saved to the work order inspection history for this asset
Complete a standalone inspection form
In the Texada Mobile dashboard, tap the hamburger menu
Tap Asset Management
Locate and tap the asset you need to complete the inspection on
The asset details page opens

Tap the Inspections tab
The list of previous standalone inspections opens for this asset

Tap add
The Create Inspection Form page opens

Note: The inspection form is pre-loaded with specific form components, depending on the type of asset. These preloads are determined by your SRM (Systematic Rental Management) application administrator
Optional: Tap remove next to any preloaded form components you do not need
Optional: To add a photo of the asset to the inspection form, tap Add Photo and follow the directions in "Add a Photo in Texada Mobile"
To add a list of pre-loaded form components to the inspection form, tap Add Form
The add form popup opens and displays the list of available inspection form types for this asset

Tap the inspection type you need to complete
The Create Inspection Form page is automatically filled with the appropriate form components

Do any of the following:

If you need to fill out a text entry field, tap the field and type any relevant information
If you need to fill out a numerical entry field, tap the field and type any relevant information
If you need to fill out a status select field, use the Status dropdown to select the status you need
If you need to fill out a checkbox/comment field, do the following:

Use the toggle to set the inspection item to either checked (on) or unchecked (off)
Optional: If you need to add additional information related to the checkbox, tap comment, and type your comment in the available field

If you need to fill out a photo field, tap photo , and then follow the directions in "Add a Photo in the Texada Mobile"

Note: See: "About Inspections in Texada Web and Texada Mobile" for more information on each inspection field type
Repeat step 10 for any fields in the inspection form until all forms are filled
Tap Submit
The Review Inspection page opens
Review the inspection for accuracy, and when you are ready, tap Next
The sign off page opens

Optional: Type a valid email address to send a PDF copy of the inspection results to in the Send email to field, or use the dropdown to select an available email address
The individual completing the inspection must provide a digital signature in the Signature field
Optional: Switch the Print a copy toggle on if you need to save a copy of this inspection form as a PDF document
Tap Done
The standalone inspection is completed
The inspection is added to the inspection history for this asset
If you entered an email address, a PDF copy of the inspection results are sent to the address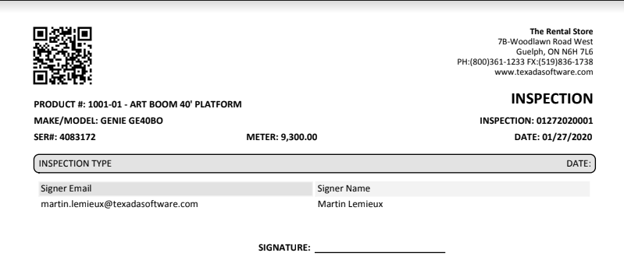 If you specified print a copy, a PDF copy of the inspection results is downloaded to your device