Provides a conceptual overview of inspections in Texada Mobile.
Type
Conceptual
Audience
All
Products
Texada Web, Texada Mobile
Body
Inspections are a key component of Texada Mobile's functionality. There are two main types of inspections:
Work order inspections that are built into the work order's details page, and only apply to that specific work order
Standalone asset inspections that are manually created and apply to a single asset, regardless of work order
In Texada Web and Texada Mobile, inspection forms are always customized for specific types of assets, such as excavators, lifts, pressure washers, etc. Each type has its own form that is specifically meant for that asset. This ensures that inspectors are always checking for the desired items on the correct equipment. For example, it would not be useful to have an inspector check the tread condition on a pressure washer.
Work order inspection forms are set up in your company's SRM (Systematic Rental Management) application by the administrator. At the time of setup, the administrator determines what inspection forms are associated with what assets and what types of questions are asked on the form. Each question can be configured to be mandatory or optional. The administrator can also set up triggers that cause certain items to become mandatory on the form, when the asset has a certain status. For example, if the status of the asset is non-functional, the inspection form might have a check engine item become mandatory. The administrator can also set up triggers that automatically create a notification that further maintenance is required, based on the results of the inspection.
Using Texada Mobile, you can create and fill out inspection forms from any location with an internet connection.
For example, if you are a technician working on a work order, and you must complete an inspection on a boom lift when you arrive at the yard/site, you can complete an inspection form specifically made for that asset, and submit the results directly to Texada Mobile and Texada Web in real time.
Not only does this save you having to carry around hard copy inspection forms that can get lost or include irrelevant information, but it saves you from having to transcribe the inspection information into the system at a later date. In addition, because the inspection information is communicated in Texada Web and Texada Mobile in real time, your counter worker or service manager can view the inspection report immediately and make any necessary arrangements based on the results.
Each inspection form is built out of at least one of the following components:
Inspection field type

Action Required

Example

Text entry

Type a text answer

Comments

Number entry

Type a numerical answer

Tire tread depth

Checkbox/ comments

Set the item as either checked (on) or unchecked (off).
Add details related to the corresponding checkbox

Check air filter + note that air filter needs changing, but not immediately

Status Select

Use the dropdown to select a status for the asset

Set up in your company's SRM (Systematic Rental Management) application

Photo

take a photo of the asset or a specific part of the asset using the mobile app

N/A
In Texada Web
You cannot create or update inspection forms in Texada Web. The forms appear alongside work orders and asset profiles and are read only. Their main purpose is to inform the counter, logistics manager, and service manager as to the status of a particular asset.
In Texada Mobile
Inspection forms are both created and completed by technicians in the mobile application.
You can build inspection forms directly into work orders, ensuring that your technicians complete an inspection before they can sign off on the work order. Work orders can incorporate multiple inspection forms.
Note: You can only complete inspection forms on work orders with the Assigned, In Progress, or Paused status.
You can also create standalone inspections on specific assets, depending on the needs of your company, and the law requirements where you operate. For example, if you are required by law to carry out regularly scheduled inspections on your fleet of boom lifts, you can create standalone inspections to handle each one.
Workflow
Inspection forms on a work order

Inspection forms can be built into a work order, and are completed while completing the work order workflow. When you access the details of a work order with an attached inspection form, the form appears along with the rest of the details.
To update or complete the inspection, you must first claim the inspection form, as there can only be one individual filling in the form at a time. You can add photos and comments, and take a meter reading for a metered asset.
Once you complete the required fields on the inspection form, you then complete any remaining workflow on the work order itself. The inspection form becomes part of the inspection history for that work order and can be viewed in Texada Web at any time.
Standalone inspection forms on an asset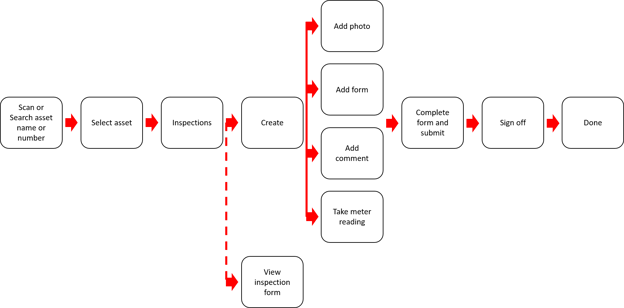 The workflow for a standalone asset inspection form is different from a workflow inspection in that you must manually create the form, and sign off on that form.
You begin by searching for an asset, and then creating an inspection form for that asset. You also have the option to view any existing inspection forms at this point. The fields in the inspection form are pre-determined in SRM for each asset type. Once you create the inspection form you can then add information to the form with photos, comments, and meter readings. When finished, you complete the form and submit it. You are then prompted to digitally sign off on the inspection form.
The form is then added to the list of asset inspection forms and can be viewed at any time in Texada Web or Texada Mobile.