Describes how to set up automated alerts and notifications for overdue and open rental contracts, rentals coming due, and invalid purchase order numbers in the customer access portal.
Type
How to
Audience
GateWay Customer, Salesperson
Products
GateWay's customer access portal
Context
Set up your alerts and notifications to control which automated reminders are sent to you and within what time frame. Each user in the customer access portal is able to control their own alerts and notification settings.
You can set up alerts and notifications for the following functions:
a report that details a list of your overdue rental contracts
a report that details a list of your open rental contracts
when a rental contract is almost due
if there is an invalid purchase order number on a rental contract
Automated reminders and notifications take the form of emails sent to the email address associated with your user account.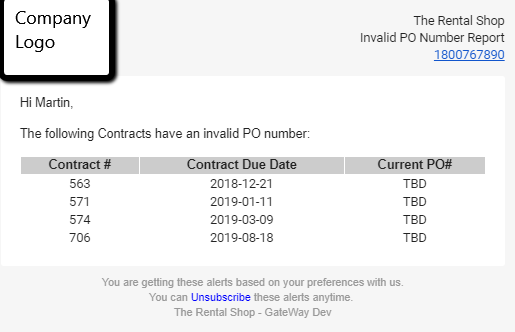 Note: Alerts and notifications you set up take effect on the following day.
Before You Begin
Required: Internet connection, valid GateWay account, valid login credentials and access permissions
Steps
To set up your alerts and notifications, do the following:
In the customer access portal header bar, use the user menu to select Configure Alerts
The My Alerts & Reports page opens in the main area

Optional: In the Overdue Contracts Report panel, check any days of the week, such as Monday, that correspond to the days you need to receive an overdue contracts report

Your notification is set up
Optional: In the Open Contracts Report panel, check any days of the week, such as Monday, that correspond to the days you need to receive an open contracts report

Your notification is set up
Optional: In the Rental Almost Due Alert panel, do the following to add an automatic reminder(s) about when your rental(s) are due:

Click Add an alert
The Rental Almost Due Alert area expands to display additional options

Click - to decrease, or + to increase the number of days before the rental due date that the alert is issued
Use the toggle to activate or deactivate the alert
Optional: You can add more than one Rental Almost Due Alert by clicking +Add an Alert and following steps b and c. For example, you can set up alerts for 2 weeks, 1 week, 3 days, and then 1 day in advance to ensure you are aware of the due date

Your alert is set up
Optional: In the Invalid PO # Alert panel, do the following to add an automatic reminder(s) about any invalid purchase orders on your rental contracts:

Use the toggle to activate or deactivate the alert

Click - to decrease, or + to increase the frequency of days that the alert is issued on. For example, you can set the frequency to 1 to receive an alert every day, or to 3 to receive alerts every three days

Your alert is set up
Related Articles