Provides a conceptual overview of Texada Pay along with common use case scenarios.
Type
Conceptual
Audience
SRM Counter and Bookkeeper
Products
SRM, Texada Pay
Body
Use Texada Pay to make your electronic payment processing faster, more accurate, and easier, allowing you to collect payment from your customers with fewer issues.
Texada Pay is an application that acts as an intermediary between SRM (Systematic Rental Management) and your customers' banking and credit institutions.
Texada Pay enables you to process a variety of transaction types and share the payment information between devices and software without having to re-enter the information. This decreases the amount of duplicate data entry required for transactions, along with the number of errors resulting from that duplicate effort.
Texada Pay works in any part of the SRM application where you can process payments such as Invoices.
For example:
If you have a customer at your counter and have generated a sales invoice, you can see the total owing in SRM. Using Texada Pay, you can select the payment method then the amount owing is passed to the card reader hardware with a single click. After the customer uses the card reader and completes the transaction, the payment information is stored in SRM.
Workflow
The following flowchart outlines the process:

Using Texada Pay involves a number of initial setup steps that are performed once. First you must set up Texada Pay to work with a card reader. If you have not already done so, you must set up what types of payments your company accepts such as over the phone or in-person using a card reader. Following this, you must install your card reader hardware and/or software and ensure that it is working correctly with Texada Pay. If your company stores your customers' credit card or banking information on-file to allow you to either manually or automatically bill them directly, you can set that up as an optional next step.
Once the initial, one-time steps are completed, the day-to-day use of Texada Pay is straightforward. When you need to accept payment from a customer, there are multiple different ways you can accept it, depending on how your company operates. You can accept:
Manual payment over the phone using a credit card
Manual payment over the phone using bank account information
Automatic payment using an on-file credit card
Manual payment using an on-file credit card
Automatic payment using on-file bank account information
Manual payment using on-file bank account information
Manual payment in-person using a credit card
Manual payment in-person using a debit card (North America customers only)
You can accept these payments in different locations in SRM, depending on where you
Regionally Supported Transaction Types
In the United States, Texada Pay is powered by OpenEdge Payments for all payment types. The application works with debit/Interac for all major U.S. banks and American Express, VISA, Mastercard, and Discover credit cards.
In Canada, in-person manual credit and debit card payments are powered by OpenEdge Payments. Manual and automatic on-file and phone bank and credit card payments are powered by ezidebit.
In Australia and New Zealand, Texada Pay is powered by ezidebit for manual and automatic on-file and phone payments, and Smartpay for manual in-person credit card payments. Texada Pay works with all major credit cards and banks in these regions.
With Texada Pay, you can process the following types of transactions in different regions:
Credit card on file

Bank account/

EFT on file

Credit card over phone
Bank account/ EFT over phone
Credit card in person
Debit card in person
U.S.

OpenEdge Payments

Canada

ezidebit

OpenEdge Payments
Australia and New Zealand

ezidebit

Smartpay
Not available
Note: Your region is determined by the region on the currency code your company is set up for in the Standard Currency dropdown found in System Maintenance > Configure System Settings > System > Company & Divisions > Company.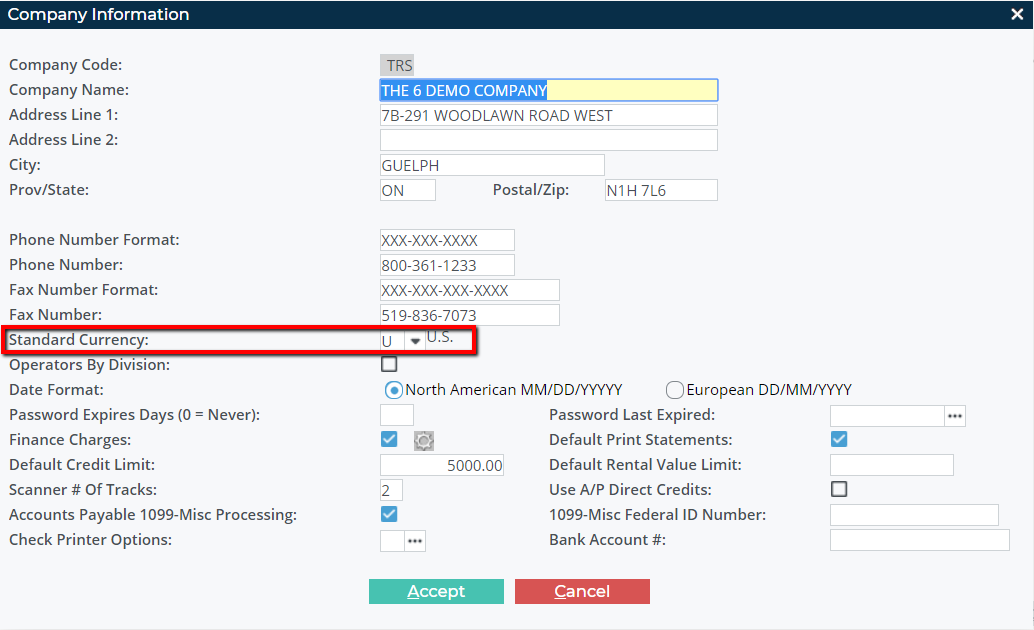 Security
Credit card information is stored in Texada Pay in a PCI compliant manner. This means that your customers' credit card information is not shared with anyone other than OpenEdge Payments, Smartpay, or ezidebit.
On-file payments
Texada Pay enables you to store bank account or credit card information on file for a customer for future usage. For example, a customer can call in payment information and allow you to use it in the future to pay their outstanding invoices.
Automatic Payments
Texada Pay is fully compatible with Texada's new Automatic Payment functionality. Use automatic payments for customers who prefer to pay later but don't want to fill out credit application forms. After running cycle billing, SRM automatically generates invoices for Auto-Pay customers and charges their on-file payment method. If unable to charge their payment method, SRM generates a list of unpaid invoices to follow-up on.
For example, you can now save a card to a cash customer then use that card on invoices, during rental return, or even in cycle billing.
Authorized card payments
You can make authorized credit card payments over the phone or with an on-file card in any region. You can make authorized payments in person using a card reader console in the United States, Canada, and Australia.
Authorized card payments are limits on amounts that you allow a vendor to charge to your card, though you do not necessarily have to reach that limit.
For example:
A customer rents a piece of equipment from you and your company requires a $500.00 security deposit. The customer authorizes you for $500, but you do not actually charge them for that amount. Later, when the customer returns the undamaged equipment, the rental total comes to $25. Instead of charging the customer's card $500, and then refunding them $475, you only charge them $25, thus only incurring a single line item on the customer's card statement instead of two.
But if the customer had damaged the equipment and forfeited the deposit, you could have charged them $525 instead because the customer had already authorized it as part of the rental agreement.
Card Reader Hardware
Texada Pay is only compatible with specific card reader hardware and software. You should receive your hardware when you sign up for Texada Pay.
You will also need to install the accompanying desktop software before you can use Texada Pay with it the hardware.
Processing Fees
Texada Pay offers competitive processing fees for both when the customer is in front of you (card present) and when the customer is no longer there (card not present) as well as direct bank withdrawals.
Please contact sales@texadasoftware.com for your detailed quote.
Related Articles